I have always included high energy physical activity into my fast paced lifestyle. I grew up in Huntington Beach where I surfed, body surfed, wrestled and played raquetball. While getting my Economics degree at San Diego State, I sailed Hobe Cats, picked up sky-diving and became a certified scuba diver. After college, I worked in in property management and was in the mortgage banking industry. I trained in martial arts, got my 1st Dan in Kempo Karate and taught women's self-defense.
Not ready to settle down in a suit and tie, I moved to Hollywood and was fortunate to appear in commercials, model for Red Perfume, and hosted the TLC show Yardcore. If you want to check out Yardcore & Red Perfume scroll down to the bottom of the page. I played bass in two punk bands: Stalag 13 and Slick Fifty. I played all clubs in the Hollywood scene and toured.
I also worked behind the scenes as a set coordinator and stage manager for award shows and events such as the Sturgis Motorcycle Rally and Music Festival. I was the stage manager for Guns & Roses, Alice in Chains, STP, Eagles of Death Metal, Godsmack and 3 Doors Down.
To clear my head in the mornings, I started jogging through Beverly Hills, Hollywood and the Sunset Strip.
As a personal challenge, I ran from Dodger Stadium to the Santa Monica Pier in the LA Marathon - it was brutal!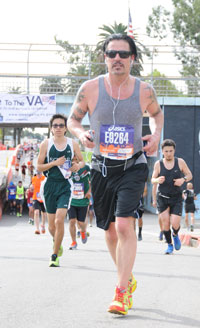 Doing Rock 'n Roll Half Marathons in Chicago, Denver and Los Angeles, showed me that the best way to explore new places is with feet on the ground. I realized that the streets I walk every day are full of local history. This got me interested in creating a walking tour that showcase the famous and infamous people who have made my hometown one of the most popular tourist destinations in the world.
Bottom line ... I've found that being outdoors and exploring my surroundings gives me focus and energizes my life.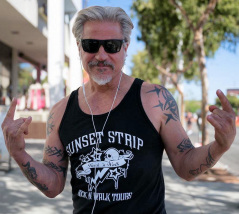 If you see me walking around Sunset Strip, please say hello!